KUHN EXPO 2020
Thank you for attending!
Thank you for attending!
This March the KUHN Farm Machinery Expo is back!
With 30 machines on display including new products never seen before in Australia. There will be live demonstrations, product displays and workshops. Plus industry experts! Hay & Forage - Baling & Wrapping - Tillage & Cropping - Crop protection - Fertiliser Spreaders - Livestock solutions. There is sure to be something for every Farmer or Contractor!
Places are limited. KUHN Expo, Wednesday 4th and Thursday 5th March in Naracoorte – South Australia.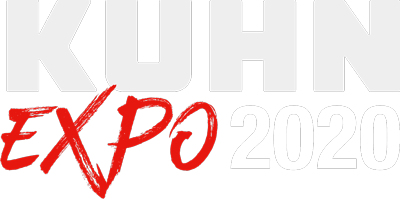 Thank you for attending
GPS coordinates: -36.9613394, 140.6915102
Find us from Wednesday 4 to Thursday 5 March 2020 in Naracoorte
KUHN EXPO 2020, NARACOORTE (SOUTH AUSTRALIA)
Wednesday, 4 March 2020: Dealer Network Day
Thursday, 5 March 2020: Customer Day
KUHN EXPO -
The program
Product Workshops &
Machinery display
Auctions &
Special finance offers
My

KUHN

, the new on-line customer area

THE LINK TO MY SUCCESS
My

KUHN

MyKUHN is your on-line customer area.

Create your account today and discover how the exclusive services offered by MyKUHN will facilitate the management of your KUHN machine fleet.

With MyKUHN: discover your equipment from a new perspective.
Electronics
As founding member of the CCI (Competence Center ISOBUS), KUHN is qualified to help you adopt ISOBUS technology quickly and easily. We are also member of the AEF (Agricultural Industry Electronics Foundation) where our mission is to define and develop the ISOBUS standard in partnership with manufacturers, in the aim of finding the best solutions for you.
Services & Parts
In order to adapt our offer to each situation, we have, within the KUHN Group, developed a comprehensive and customizable service offer via our distribution network. Our goal, with these services, is to bring you peace of mind by adapting the most thoroughly our offer to your expectations and avoiding unpleasant surprises. This way, we are at your side daily.
Discover also...
KUHN revolutionizes the history of ploughing
KUHN has just achieved an extraordinary accomplishment, the realization of the KUHN logo in an area of 18 hectares in an agricultural plot with the VARI-MASTER L, equipped with Smart Ploughing-Lift. This Isobus technology allows precise plough guidance by GPS datas and controls the lifting and lowering of each body at the set point.
188.9 hectares in 8 hours
KUHN has set the Raking World Record: 188.9 hectares in 8 hours, certified by the DLG (Deutsche-Landwirtschaft-Gesellschaft).
Step into the Raking World Record in Denmark. The 4 rotor gyrorake GA 15131 from KUHN's range of hay & forage making machines set the record, coupled to a 6250R John Deere tractor.
More than 190 Years of Excellence
Today, more than ever, we believe in the future of agriculture and our industry. Our 190 years of experience and the commitment of our staff, combined with the performance of our distribution networks that ensure proximity with customers, enable us to look to the future with passion and confidence.