Tillage
Non-forged power harrow blades FAST-FIT
Longevity
KUHN harrow Fast-Fit blades are made from steel to provide the best compromise between hardness and resilience. Cut steel guarantees consistent part profile and high work output.
The bending phase ensures that no steel fibres are deformed to increase resistance to impacts and stress. Angled, the shape of the tines reduces power requirement and increases resistance to wear.
Special heat treatment that consists in water hardening and tempering puts flexibility back into the part to prevent breakages.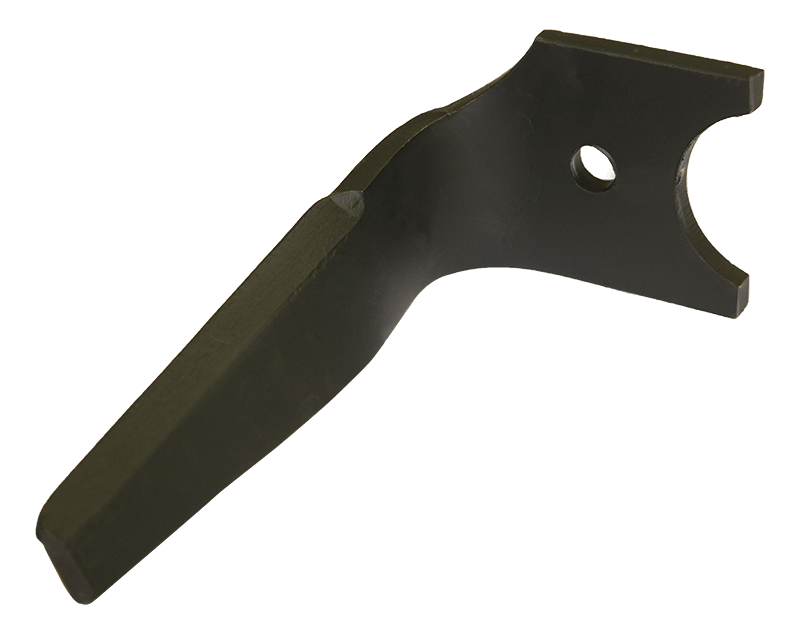 Fast-Fit blad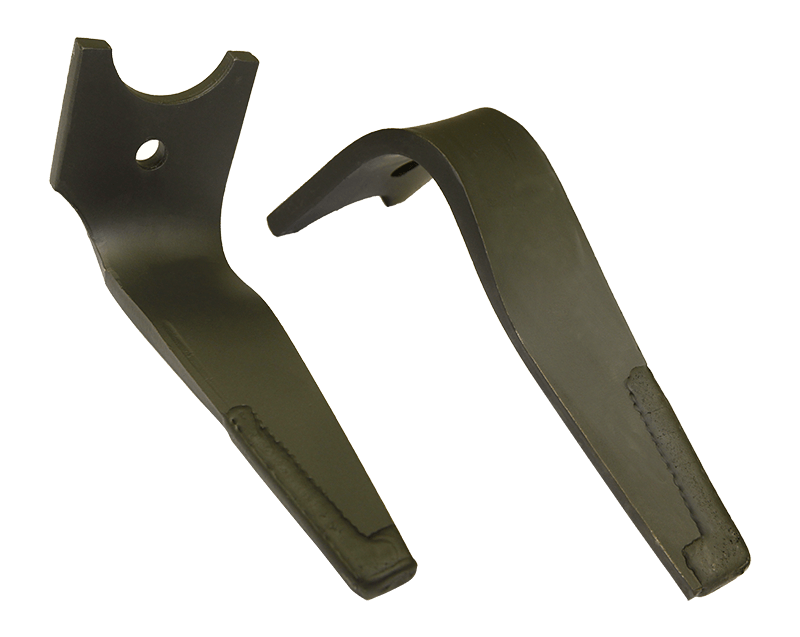 Coated blade
Carbide option
Fast-Fit blades (DURAKUHN) can also be coated with carbide. The heat treatment process is carried out afterwards for uniform hardness and reduced wear.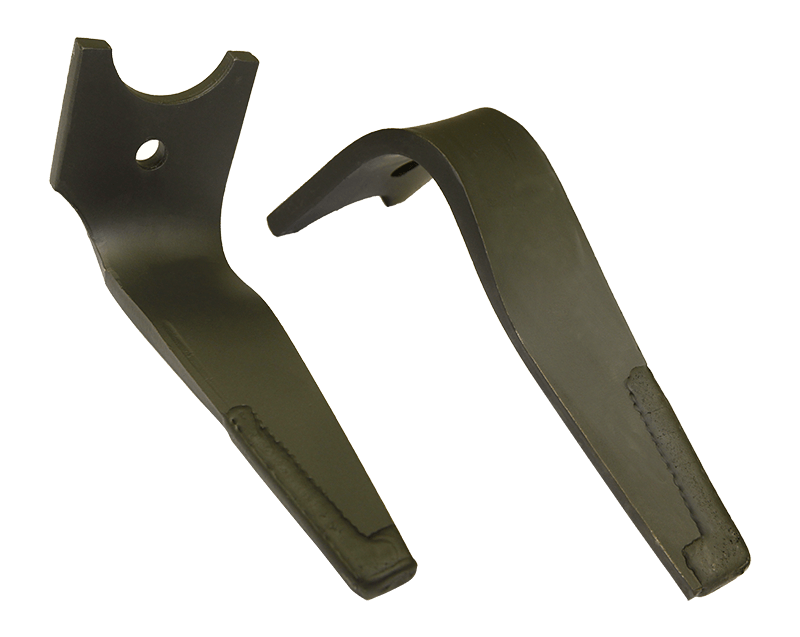 Coated blade
Versatility
The design of standard harrow tines (twisted and bevelled) is ideal for working ploughed land. It crumbles the soil, is adapted to high working speeds and has angles that reduce power requirement and increase resistance to wear.
The shape of the Optimix blade (angled, pointed, non-bevelled) is perfect for working unploughed land. Their special angle enables easy soil penetration and their rectangular shape makes them highly wear resistant.
Another type of tine is also available, a long tine specially designed for potatoes.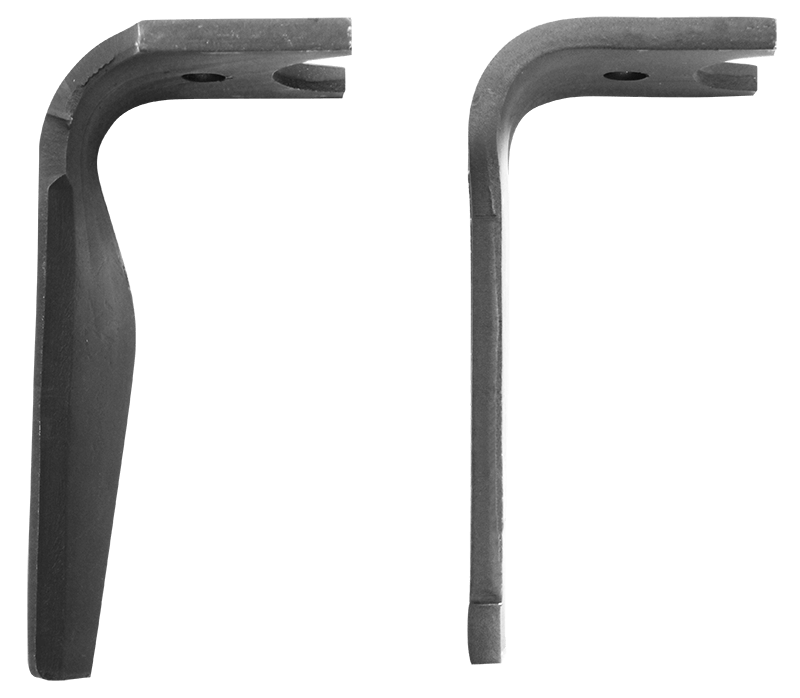 Standard blade / Optimix blade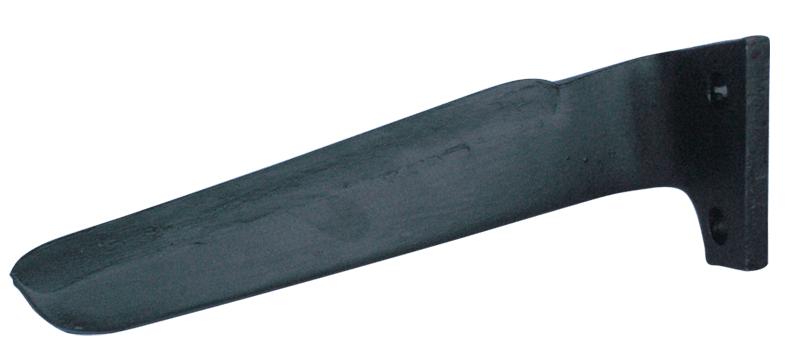 Potato tine (non FAST-FIT version)
Comfort
Blades are held in place by means of a highly resistant connecting piece in forged steel.
The connecting piece is locked in place by an automatic clip placed under the tine holder and very easily accessible. A protective device is integrated into the holder to prevent damage or accidental loosening of the clip.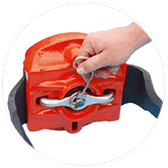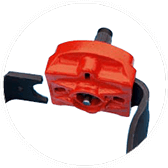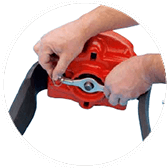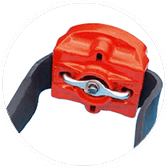 ---
FAST-FIT lock
Safety
The safety system integrated into the shape of the tine and holder can withstand impacts and load variations in stony or hard ground thereby avoiding any over-consumption.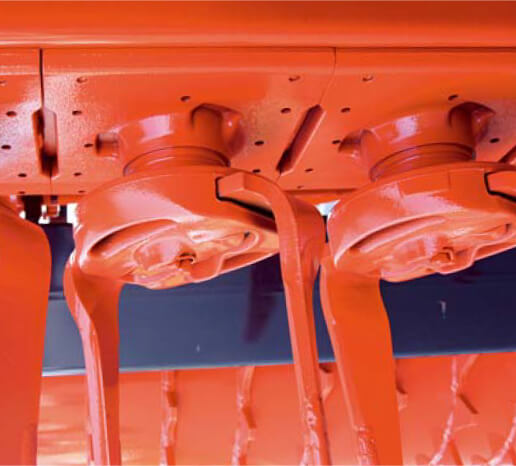 Forged power harrow tines
Longevity
KUHN's power harrow blades are forged in a 1500 ton press. This operation increases resistance to impacts and wear while preserving material fibre.
Pre-stressed shot-blasting reinforces the part where it bends. Hardening treatment in oil followed by tempering puts flexibility back into the harrow tines and prevents them from breaking.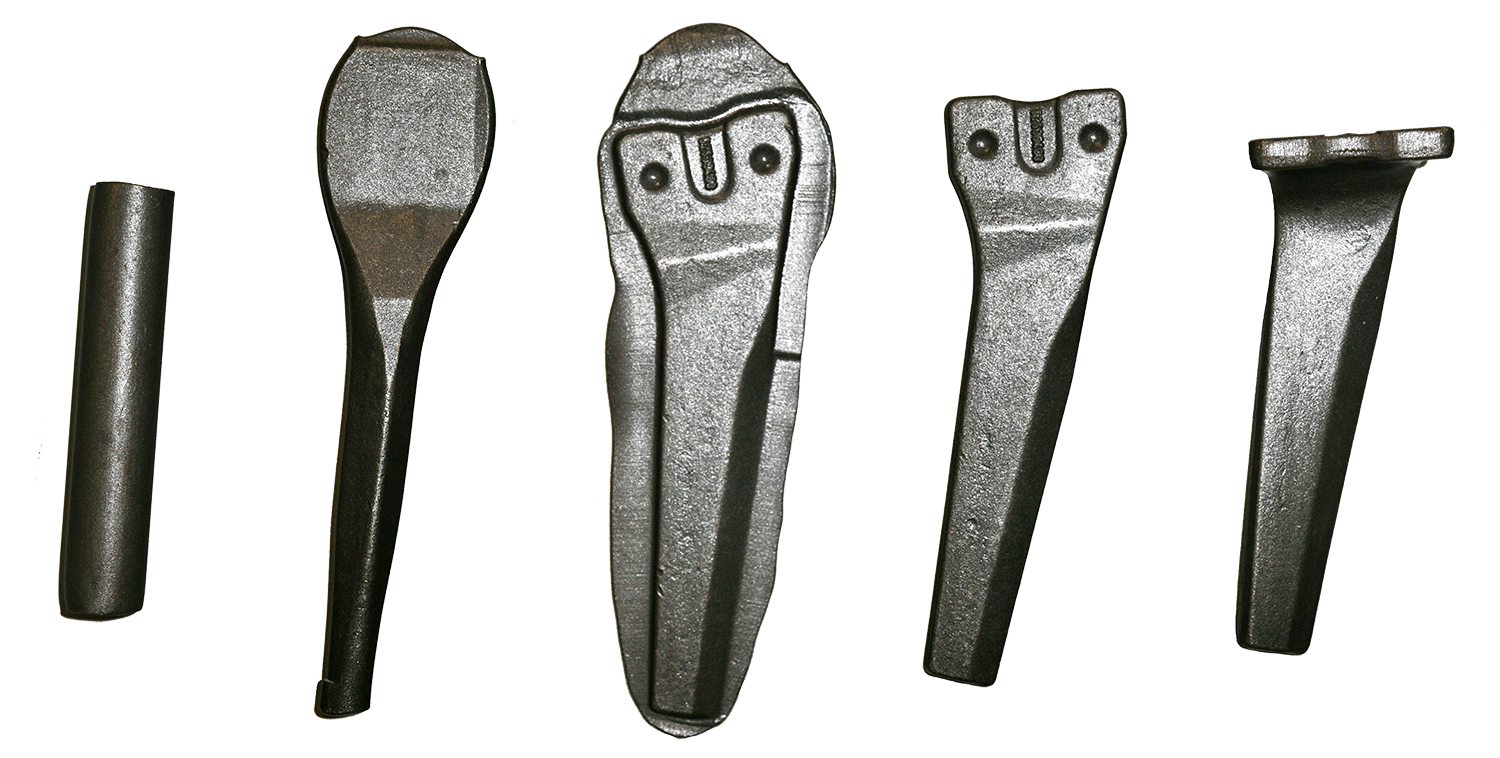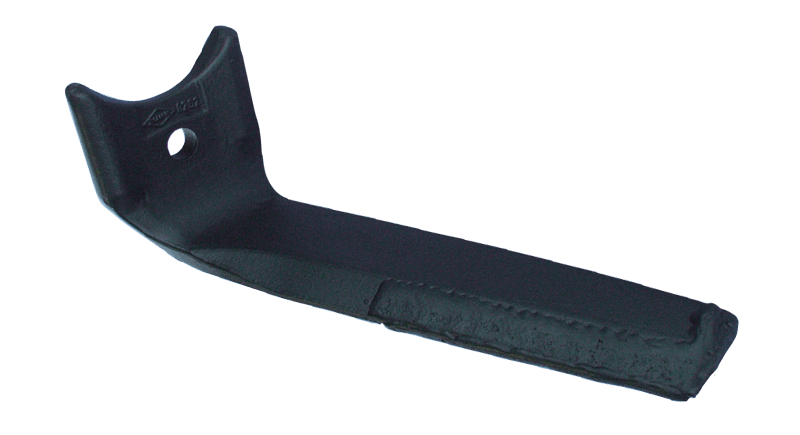 Carbide option
"DURAKUHN" forged blades also exist with carbide coating. This reinforces resistance to impacts and wear.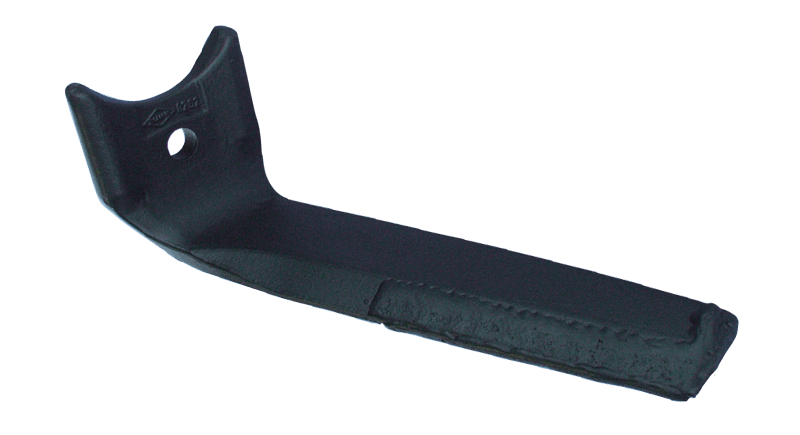 Robustness
Wear parts, casing, bearings and tine holders all form a compact and very robust unit : conical roller bearings with spacer, one-piece cast housing, cassette seal, fast-fit tine system; many improvements have been made to the rotor drive system.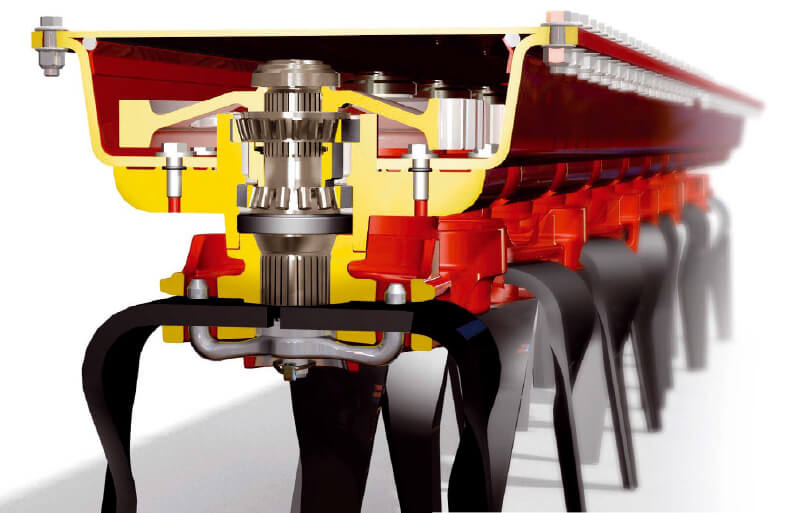 Performance
The rotors are driven by large-diameter gearwheels. A large number of teeth are engaged at all times to ensure power transmission to the blades.
Power tillers blades and tines
Longevity
Rotors can be equipped with L-blades and C-blades. They have been designed to provide the required strength.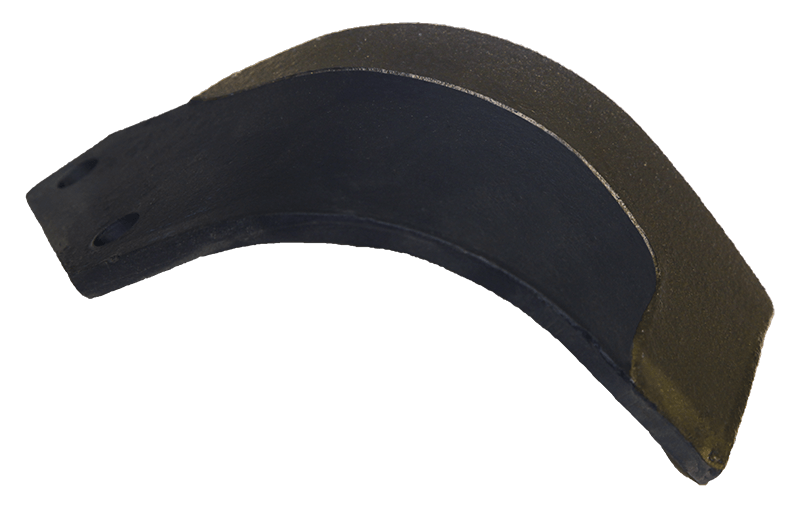 Coated blade
Carbide Option
Some blades also exist in tungsten carbide. They are made from boron steel which is treated then coated.
Tungsten carbide-based coating is applied to the upper side of blades. A one millimetre thick layer increases the lifespan of blades threefold. It is the best compromise between great resistance to wear and impacts.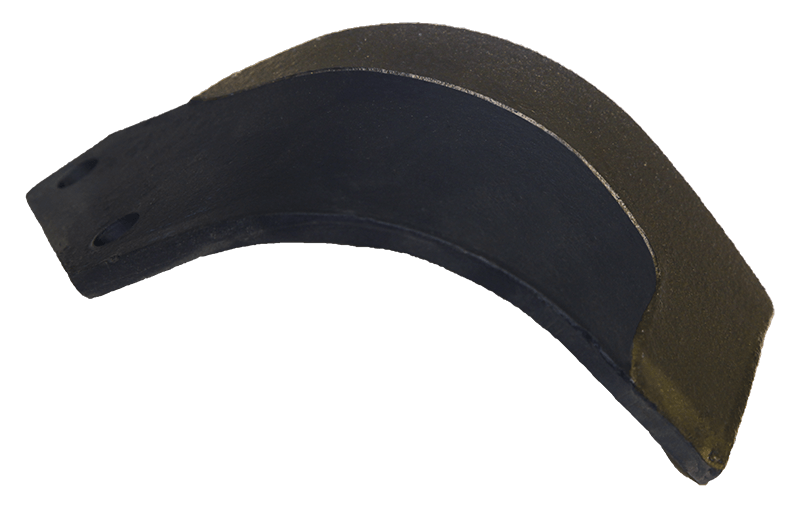 Coated blade
Versatility
With the Cultilabour and the Cultitiller, KUHN tines are very easy to fit and remove.
Some tines are made of tempered boron steel and they have then a carbide coating.
---
Cultirotor
The L-blades have a square opening angle for working on any type of land, hard wearing, shallow inter-row work, pasture and alfalfa fields.
The C-blades present an open angle, reduced power requirement, are effective in wet conditions and for seedbed preparation and offer a very good incorporation of plant residues.
---
Cultilabour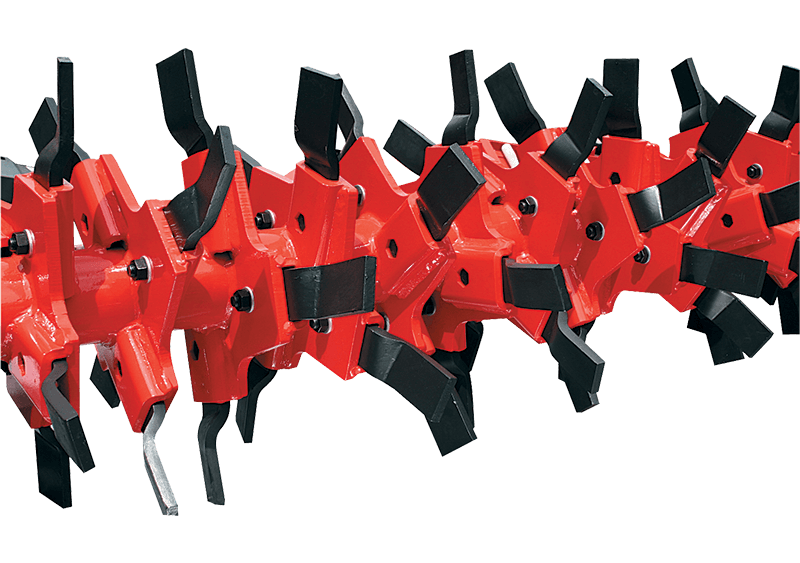 Cultilabour tines have a large surface area in contact with the soil. The left and right angles of the tines provide good soil levelling by moving the soil from side-to-side. They also have a large surface area in contact with the soil.
Also available with the EASY-FIT system, each tine can be removed and fitted again with one single attachment bolt.
---
---
L-blade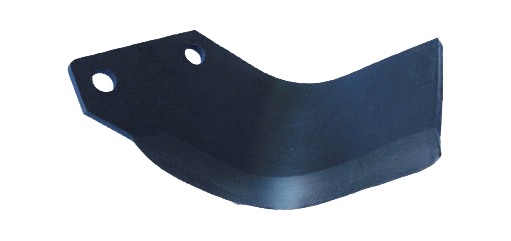 C-blade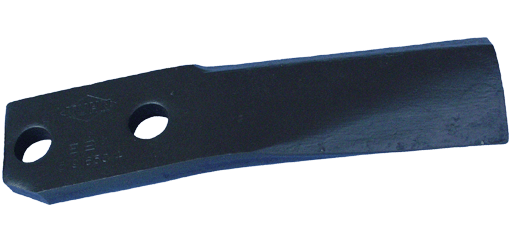 Standard tine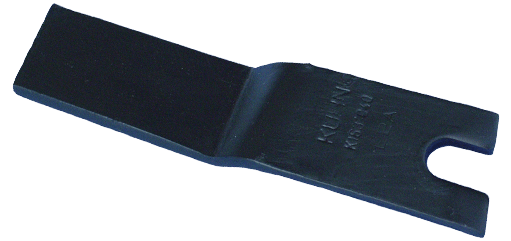 EASY-FIT tine
Cultitiller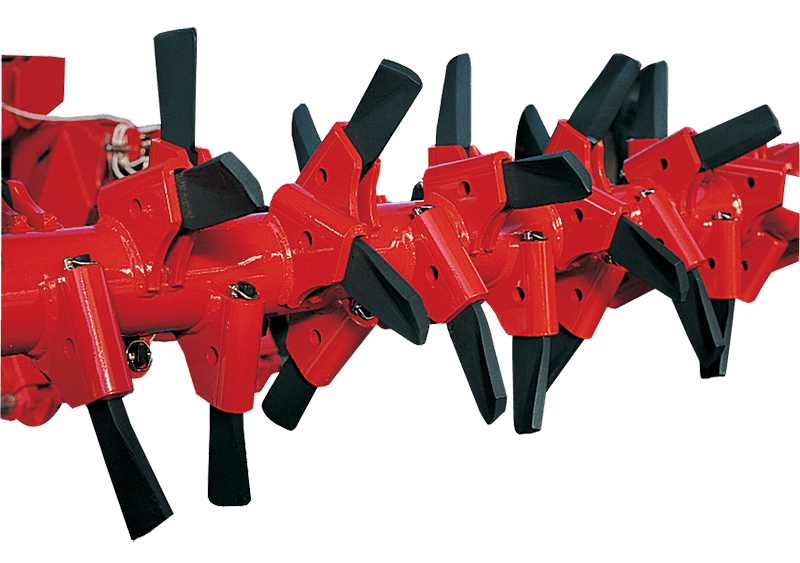 Tines provide maximum cover of the worked area as well as significant penetration. They are ideal in wet conditions and rocky soils.
The "leading" position of CULTITILLER rotor tines lifts and cuts. Left and right-angled tines provide good soil levelling by moving the soil from side-to-side.
The Fast-Fit system for tine attachment available with forged and angled models is exclusive to KUHN. Secured with a single lynch pin, tines are replaced and perfectly secured in just a few minutes.
Discs and tines for Stubble cultivators
Performance
The discs are tilted in relation to groundspeed and verticality.
The discs' angle of attack gives them great soil penetration capacity.
The shape of the discs enhances intensive soil-crop residue mixing. 6mm thick discs give a 20% more longer life when compared to 5mm discs.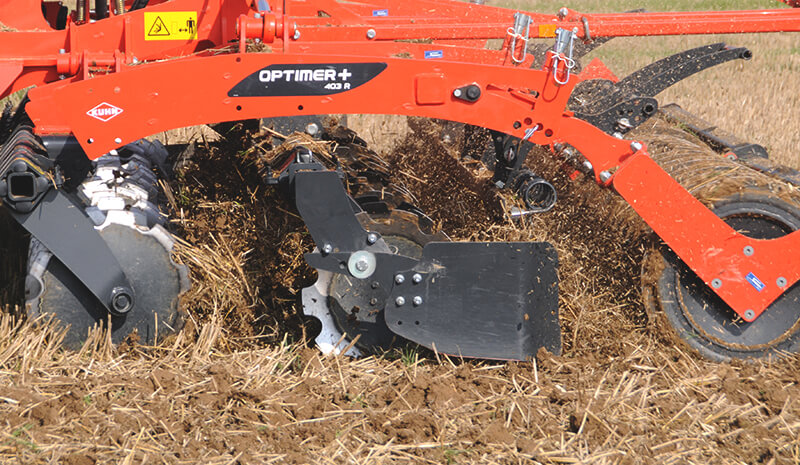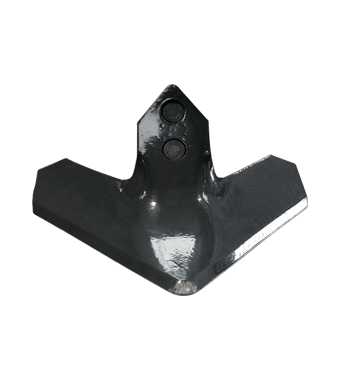 Goose foot share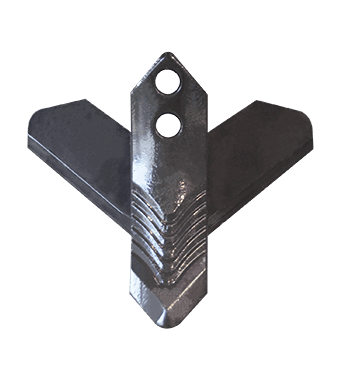 Point and wing share
---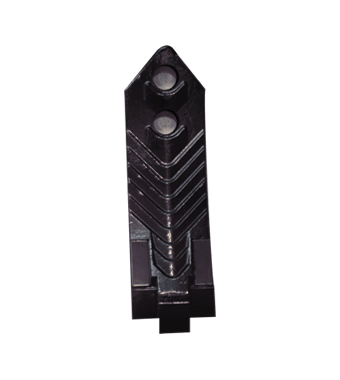 80mm carbide point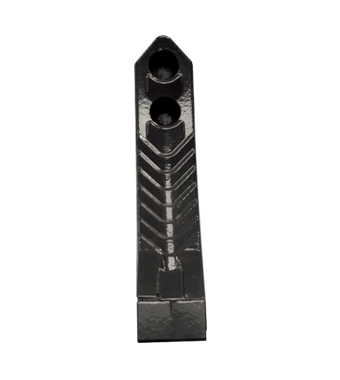 50mm carbide point
Multi-purpose tines
Shallow depth : goose foot shares
Medium depth: point and wing shares
Deep tillage: 80mm points
Deep tillage in heavier soil conditions: 50mm points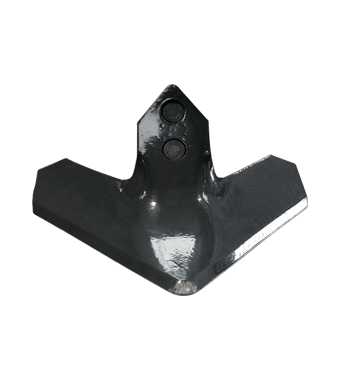 Goose foot share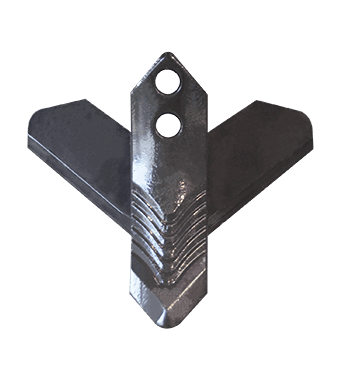 Point and wing share
---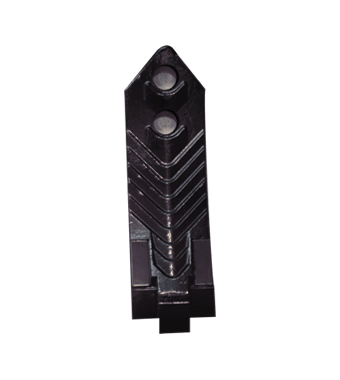 80mm carbide point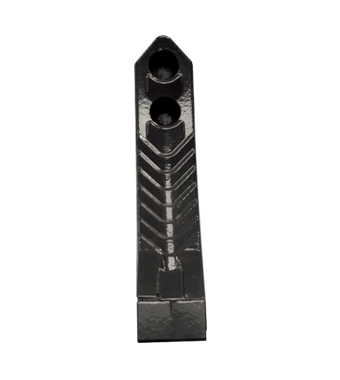 50mm carbide point
Carbide Option
Our carbide wear parts are thicker than classic points (40mm vs 15mm) and fins (12mm vs 10mm) and consequently cost less to service. Forged and treated, they are incomparably robust and wear-resistant. The ribbing on the upper side fills with soil and reduces wear even further due to soil-soil contact. The position of the 5-part carbide plates on the point guarantees exceptional penetration, even in hard soil, and lower power requirement.
Front carbide plates, tucked over the end of the points, and side plates guarantee a longer life in terms of wear, even in stony soil.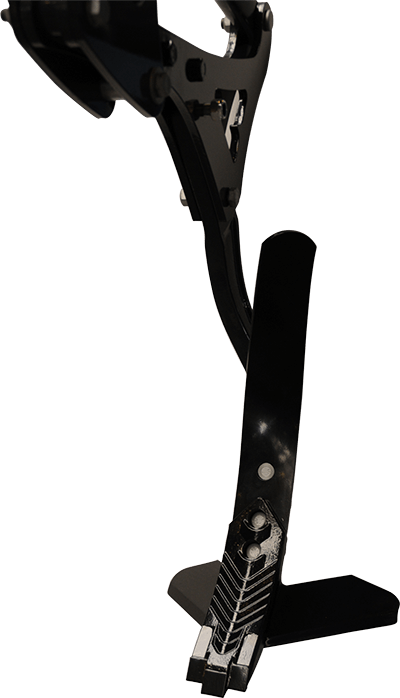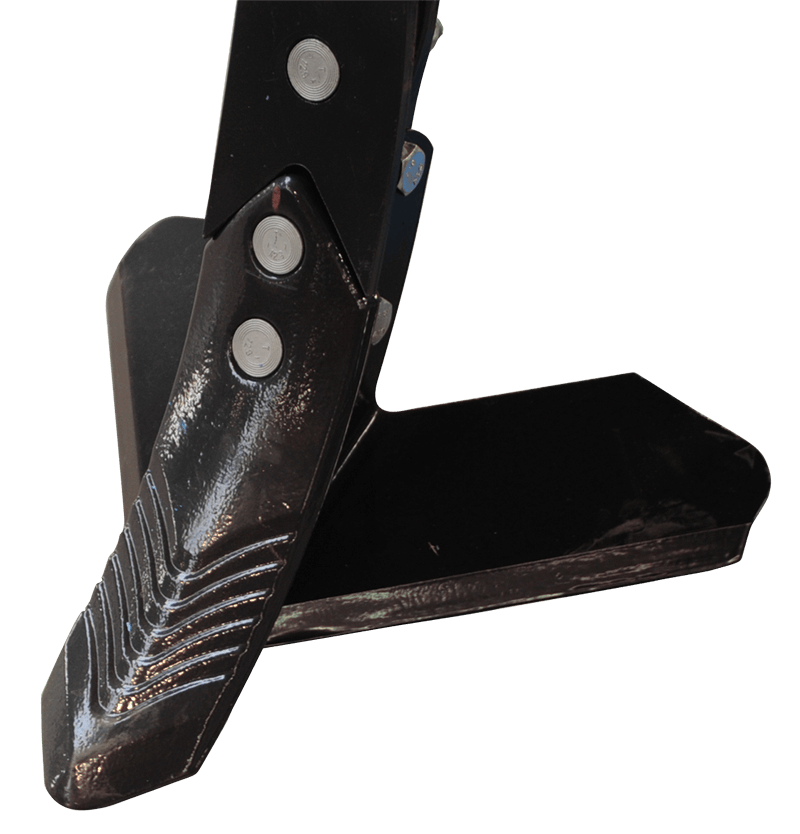 KUHN Forged 80 mm point
Forged 80 mm points
The 80 mm points are forged at KUHN to ensure they maintain their shape and last longer.
Therefore the genuine KUHN points are distinguished by their ability to maintain the "V" shape and optimal ground penetration, despite wear. The ridges on the face of the point also help to increase their necessary changing interval.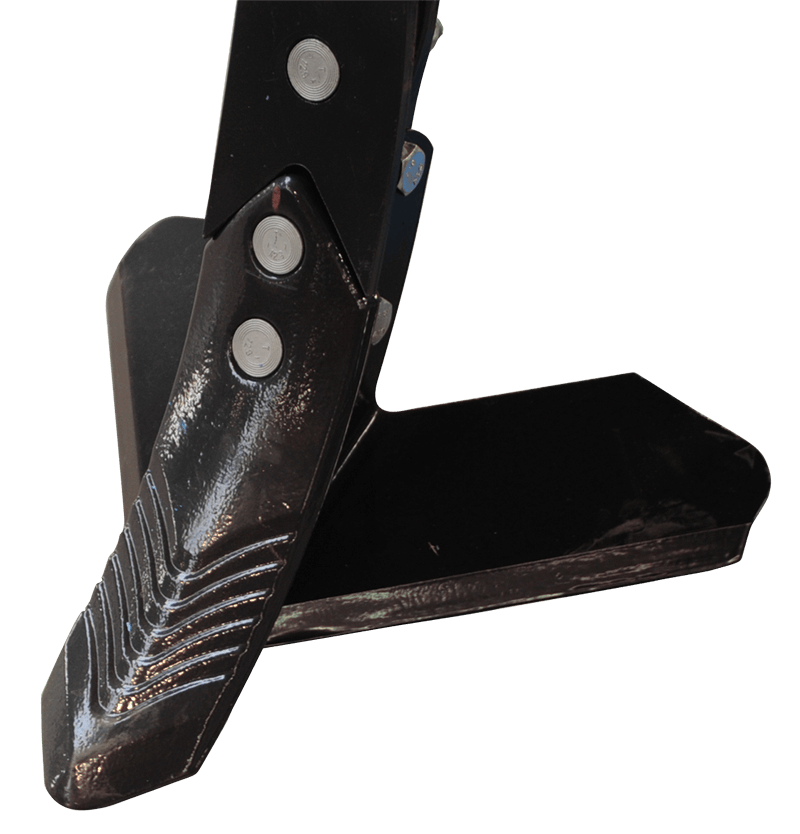 Forged 80 mm points