With KUHN tedders and rakes, feel the benefit of a well-coordinated and optimised harvest chain that takes your forage, your terrain, your climate, your surfaces areas and your storage methods into account. These machines provide the reliability you need on hilly land, and satisfy your requirements for harvesting. Working along field borders and in corners is no longer a problem!
Your benefits
Simple and effective
The pivoting headstock enables the rotors to follow the tractor perfectly when working. With working widths of 5.75 and 6.40 m, they come with all of the features necessary for high-quality tedding.
Compact and light
The compact design of these tedders is ideal for small and specialised tractors. At weights of approximately 690 and 850 kg respectively, they are easy to handle, especially on slopes.
Simple and safe on the road
By activating the hydraulic valve, the tractor arms lift the rotors into transport position. The rotors are automatically centred and locked in this position. Road travel is safe and easy.
Your benefits
Surprisingly compact
Despite the large 7.80 m working width, the small diameter rotors limit overhang so that it is possible to work with lower horse-powered tractors. Machine height is exceptionally low. The 8 rotors of the tedder fold into a compact unit to facilitate road travel and field access.
Perfectly stable
Being equipped with an exclusive and patented stabilising system, in the event of sudden braking on bends, the rotors remain stable and aligned behind the tractor. The hydraulic shock absorber stabilises the machine when turning in the field. When lifted, the tedder is re-centered gently and automatically with its two large shock absorbers.
Uncompromising along borders, headlands and on slopes
For neat and tidy tedding along borders, the tedder is equipped with an in-cab centralised oblique hydraulic control system. Oblique mode is particularly useful on slopes to control flow trajectory and create optimum cover. The rotors rest on the large-diameter wheels. The wheels are positioned close to the tines to provide excellent height control and great adaption to uneven ground.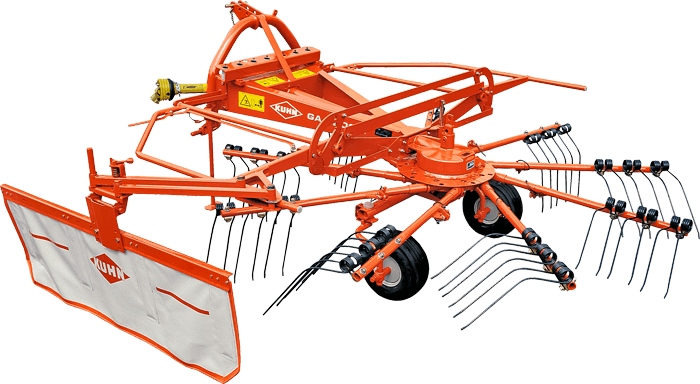 GA 3201 G / 3201 GM
Fully equipped for low and medium horse-powered tractors!
Your benefits
Perfect for small field areas
These rakes are designed for small farms and low to medium horse-powered tractors. Being equipped with nine tine arms, these tools operate working width of 3.20m.
Optimum wheel position for ground contouring
All rake wheels are positioned as close to the rotor as possible. As a result, the tines contour uneven ground to prevent dirt getting into the forage.
GA 3201 G: the ideal machine for steep slopes
The GA 3201 G is equipped with a fixed headstock and pivoting wheels. This makes it particularly effective in following the tractor's trajectory on your steepest slopes.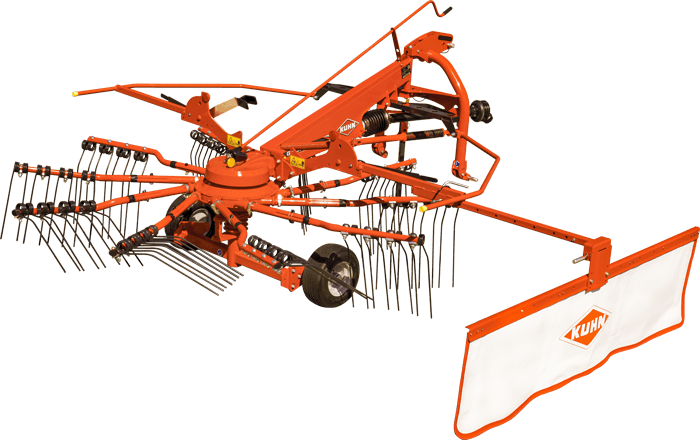 GA 3901 / 4201 / 4401
Perfect rake hold when driving on damaged paths and hilly areas...
Your benefits
Higher comfort of use
Their innovative drive design ensures delivery of the windrow to the right: a significant comfort of use for the operator.
Perfect for work in hilly areas
Aimed at tractors of small size or also operating in very hilly regions, special care has been taken to ensure a limited weight and good ergonomics. Two powerful shock absorbers with brake provide excellent centring when lifting the machine on headlands. Both shock absorbers contribute to perfect rake hold when driving on damaged paths.
Made to measure to your fields
For poorly leveled terrain, they feature tandem wheels. A pivoting front wheel is available for improved ground adaptation on slopes, thus limiting the incorporation of impurities into the forage.
Your benefits
Increase work output without changing everything
The grassy areas on your farm are increasing and the single-rotor rakes are reaching their limits. That's why the GA 6501 twin-rotor rake with working widths between 5.65 and 6.40m is perfect for increasing your work output while being adapted to smaller enterprises.
Easy-to-handle, compact rakes
Moving from one field to another is easy with this reduced transport width of 2.50m. Hydraulic rotor lift facilitates tight turns and ensures high clearance when turning on the headlands.
High-quality raking, even on slopes
Homogenous swath quality and volume are conditions for fast drying and easy pick-up by balers. With 3D rotor articulation and wheels positioned as close as possible to the rotors, the rake follows uneven ground smoothly without damaging the sward. Impurities are therefore, kept out of the forage.
You would like to have more information?
You want to make an appointement? Get a quote?