Innovative sowing techniques
When versatility meets performance: the time of new opportunities has come!
You are looking for new agronomical directions? You wish to sow several species at different depths? You want to keep control of the high-precision application rate?
We too!
Something new for all!
Whether you practice conservation agriculture, min-till or direct seeding, or even conventional seeding, new seeding techniques are available to you thanks to new developments in agricultural machinery.
The possibilities offered by the presence of several hoppers on the same seed drill are numerous and very beneficial. Plant two different species and incorporate a fertiliser, establish a cover crop with three precisely dosed species, bring starter fertiliser or mineral elements as close as possible to the seed during direct seeding or between two rows to promote root development in a min-till cropping system...
Let's make seedling protection and optimization accessible to farmers!
Combining 2 species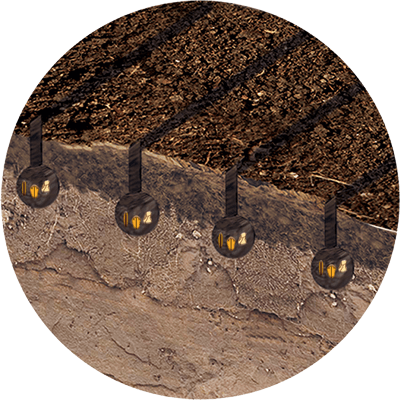 Combining 3 species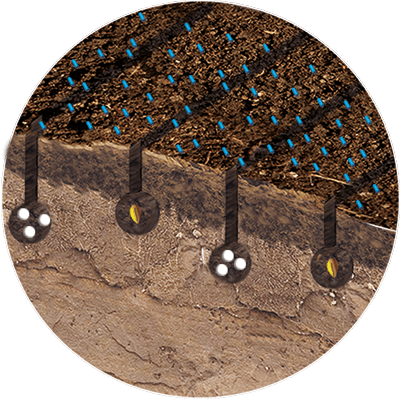 Combining 3 products
There are

countless benefits!
Provide a real time saver
This is a goal during developments that allow achieving a single passage instead of 3... The seeding speed in min-till seeding practices is also faster than in conventional seeding.
Improve precision
By providing a more precise metering and positioning of seeds and fertiliser for example. The latter can be delivered as close as possible to the seed while avoiding burns during direct seeding. This improves the start of the plant without promoting the development of the established plant cover. It can also be delivered on one row out of two at a different depth on the ESPRO RC range in min-till seeding practices to promote root development.
Give farmers more guarantees
By limiting the impact of weather conditions for example. The burial of seeds or fertiliser is ensured via the triple disc technology of direct seeding AUROCK seed drills in particular. Sowing several species and ensuring their rapid development makes it easier to cover the soil in order to reduce weed development. Some mixtures of species also provide an additional crop.
More information on the triple disc of the AUROCK seed drill
Improve agronomic performances
Thanks to the possibility of sowing several species in the same plot but also localizing and burying fertiliser. This contributes to improve the system's autonomy in nitrogen as well as the latter's efficiency and for example provide better phosphorus localization and availability for seedlings.
Soften the environmental impact
By reducing losses through fertiliser burying and localising, these innovative seeding techniques are also beneficial. Note that by making a single passage instead of three in a plot, the farmer significantly reduces his carbon footprint but also limits erosion and promotes the soil's structure according to the species implanted while limiting compaction...
MORE POSSIBILITIES
WITH ADDITIONAL HOPPERS
The additional SH compact seeders are adaptable across the VENTA, ESPRO, AUROCK and TF front hopper ranges. They provide higher precision for sowing plant cover, slug pellets and fertiliser granules thanks to helical fluted metering units HELICA. It is the assurance of a perfect metering and distribution in all conditions. In particular, they can sow 3 products at 3 different depths (ESPRO RC seed drills) and sow 3 products at 2 different depths in Conservation Agriculture with the AUROCK RC seed drill, all in one pass! Also combine your VENTA ISOBUS seed drill with the ISOBUS TF 1512 front hopper and as well as an additional SH 1120 seeder and drive all your metering units with an ISOBUS terminal (CCI or ISOBUS tractor terminal).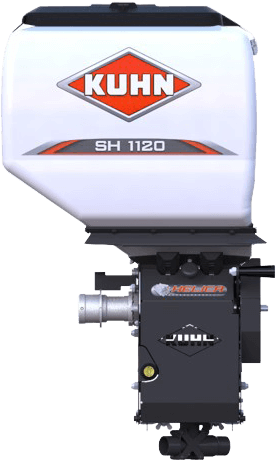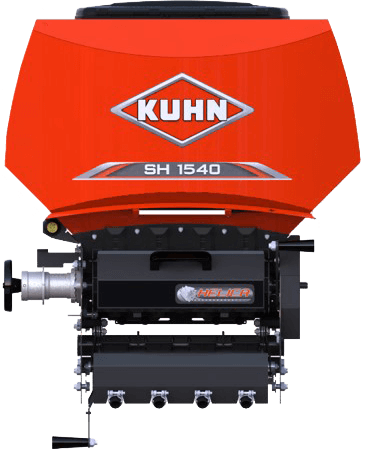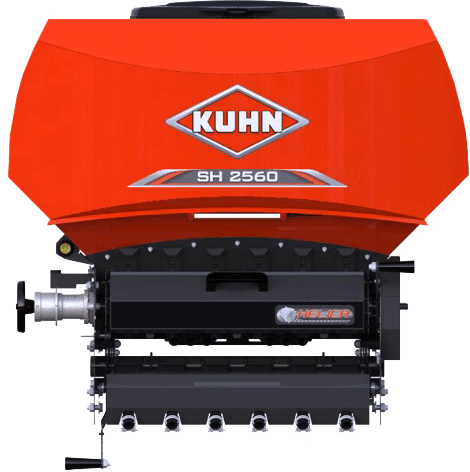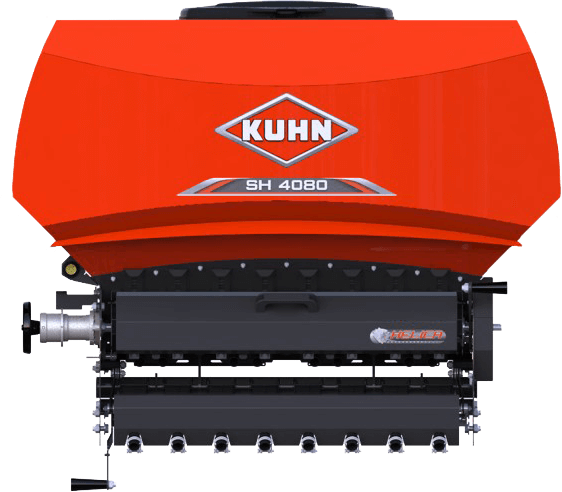 With the additional SH 1120 seeder, the injection of an additional product contained inside is done at the level of the machine's first metering unit. This allows adding a perfectly individually dosed product directly into the seeding units, without additional units.
With the additional SH 1540, SH 2560 and SH 4080 seeders, you practice broadcast seeding in one pass when sowing your main crop. The distribution of an additional product contained in these hoppers is made at the back of the coulter bar via specific spreaders. You spread on the surface a product perfectly individually dosed during the passage with your seed drill for your main crop.
A FEW
EXAMPLES OF USE
It is easy to sow wheat at 130 kg/ha at a depth of 2 cm and incorporate a starter fertiliser at 60 kg/ha 3 cm deep. During the same pass, the additional hoppers allow delivering slug pellets on the surface at 5 kg/ha.
Similarly, we can cite the following examples of plant cover: oats at 15 kg/ha and 2 cm deep with fava at 50 kg/ha and 4 cm deep and add vetch as a third species at 20 kg/ha also at a depth of 2 cm. The whole will be precisely dosed and sown to the desired depth. Another example of multi-species seeding can consist of oats at 15 kg/ha at 2 cm, peas at 20 kg/ha at 3 cm with clover at 15 kg/ha on the surface.
You would like to have more information?
You want to make an appointement? Get a quote?
Consult also...
Genuine KUHN Parts
Don't let a breakdown interrupt your operations.
Our ultra-modern production tools guarantee original spare parts that defy time. Do you need a spare part fast? With KUHN SOS order, you benefit from express delivery 7 days a week/ 362 days a year.
My

KUHN

Service platform available 24/7.

Free subscription as of today in our new customer area and discover how MyKUHN facilitates your daily work and managing your KUHN machine fleet.